Why Now Is the Time for Digital Therapeutics (DTx)

Amid the gloom and doom of the unfolding Covid-19 pandemic in 2020, digital health companies faced bad news, from job cuts to roll backs of large pharma partnerships. In the midst of the crisis, there has been surprisingly uplifting news for companies developing digital therapeutics (DTx) or Prescription Digital Therapeutics (PDT)— therapeutics that aim to replace traditional medications with smart phone and tablet apps. In march of this year FDA announced the first PDT authorization through the long-awaited FDA Precertification Pilot program, which is designed to streamline software device manufacturer regulatory processes.
Some manufactures see the Covid crisis—with its dependence on digital connections with stay-at home orders in many areas—as an opportunity for DTx/PDT. Before the Covid era, digital therapeutics were already starting to gain steam with regulators, prescribers, and payers. The still relatively nascent category saw investments increase by mor than 40% annually over the past 7 years, topping $1 billion in 2018, according to McKinsey's digital therapeutics report last month. Prescription digital therapeutics development covers an enormous range of conditions, from depression and mental health disorders to diabetes and multiple sclerosis.
How Pear Became Nailed the First Pre-Cert "Authorized" Product
Pear therapeutics Reset™, a computerized behavioral therapy device for psychiatric disorders, became the first prescription digital therapeutics in May 2016 when FDA granted the Pear Reset™ De Novo petition DEN 1600018 (similar to a 510(k) for medical devices in the USA where no similar technology, or "predicate", is already on the market). In December 2018, Sandoz Inc., a division of Novartis, and Pear Therapeutics, Inc. announced FDA 510(k) clearance of reSET-O™ (FDA K1736381) as the first FDA-cleared Prescription Digital Therapeutic (PDT) for patients with Opioid Use Disorder. Both products as labeled for "adjunctive management," which means they are meant to be used alongside conventional care and not as standalone prescriptions. Both products required clinical trials to validate their performance, with the trial for Reset enrolling just over 500 patients (Full protocol online at CTN0044, Clinical Trials.gov NCT01104805) and Reset-O enrolling 170 patients seeking treatment for opioid dependence in a 12 week (treatment as usual vs. Reset added to treatment, see Clinicaltrials.gov NCT­ NCT00929253.
Pear has more than dozen other products across its pipeline, including treatments for schizophrenia as well as multiple sclerosis, through its partnership with Novartis.
In Mar 2020, Pear's Somryst™ prescription digital therapeutic for insomnia was submitted via the traditional 510(k) pathway while simultaneously being reviewed through FDA's Software Precertification Pilot Program, and was used to build and test FDA's Digital Health Pre-certification Working Model 1.0. The submission was supported by 2 clinical trials enrolling more than 1400 adults.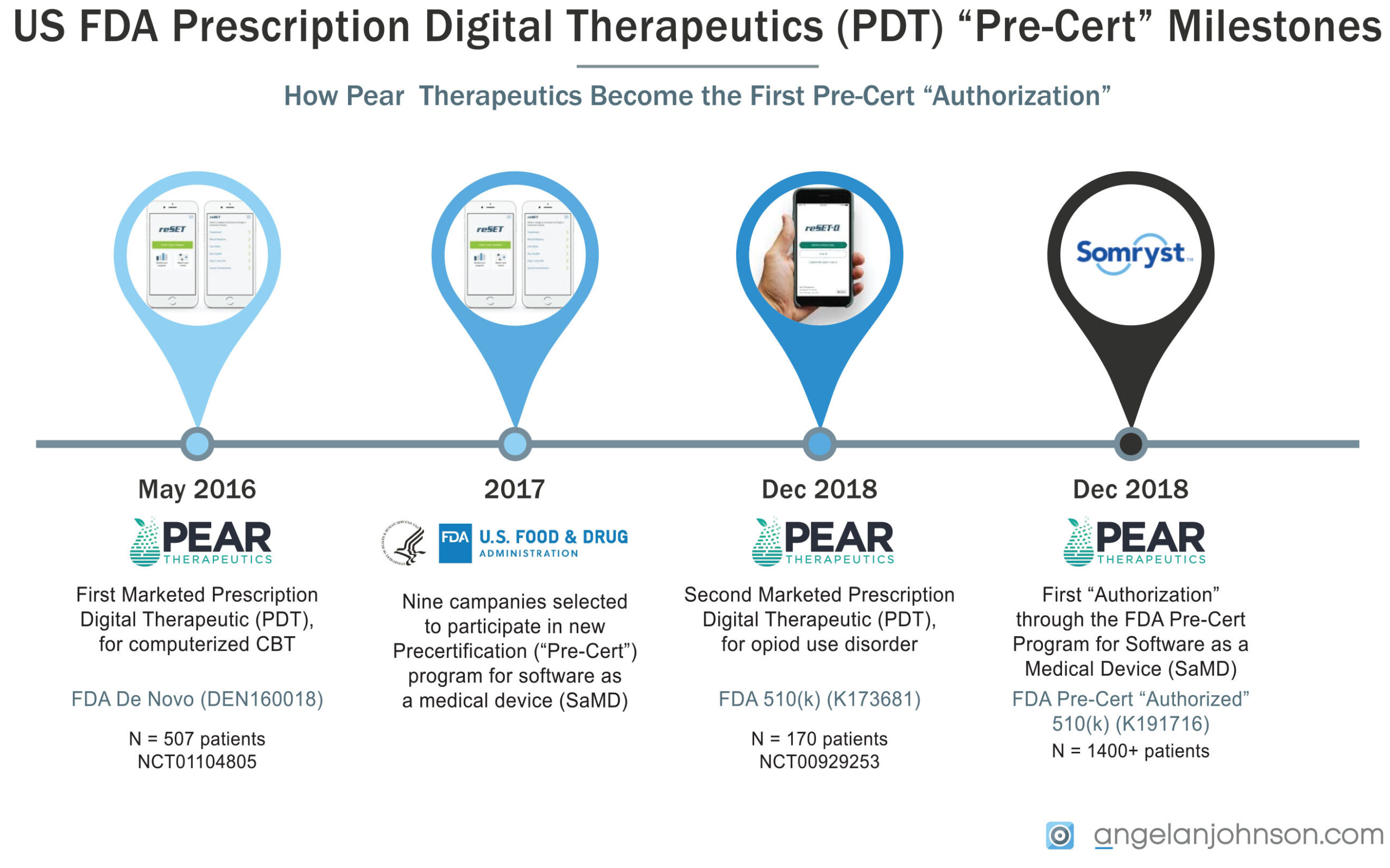 What is the Pre-Cert Program, and How Do I Leverage It?
In September of 2017, FDA selected nine companies among more than 100 applicants to participate in the development of the FDA Software Pre-Cert pilot program. FDA has stated that the Software Precertification Program, or Pre-Cert Program, will be a voluntary pathway that streamlines safety and effectiveness of software technologies without inhibiting patient access to these technologies. The companies selected to participate in the pilot program include:
Apple
Fitbit
Johnson & Johnson
Pear Therapeutics
Phosphorus
Roche
Samsung
Tidepool
Verily
The FDA Pre-certification ("Pre-Cert") Program was established to modernize and streamline the path to market for software as a medical device (SaMD) products, in particular for companies with multiple products across their software platforms. PreApple, Fitbit and Johnson & Johnson are among the nine companies in the pilot launched in 2019, and the FDA is working to understand their business model and to help them fast-track digital health products to market. To date, feedback on the FDA Pre-Cert program has mostly focused on how the FDA plans to tier companies in the program based on both experience a manufacturer has with medical devices, though the 9 initial participants in the pilot are not tiered.  Based on the FDA Pre-Cert Working Model Released in 2018 FDA would evaluate organizational excellence based on five culture of quality and organizational excellence (CQOE) principles (which FDA refers to as "excellence principles"):
Product Quality – Manufactures must demonstrate excellence in the development, testing, and maintenance necessary to deliver SaMD products with sustained quality.
Patient Safety – Manufacturers must also demonstrate excellence in providing a safe patient experience and emphasizing patient safety as a critical factor in all decision-making processes.
Clinical Responsibility – Manufacturers must demonstrate excellence in responsibly conducting clinical evaluation and ensuring that patient-centric issues. This includes in labeling and human factors, which FDA CDRH has recently been active in (most notably with the 2016 release of FDA CDRH's usability engineering and human factors guidance).
Cybersecurity Responsibility – Manufacturers must demonstrate excellence in protecting cybersecurity and proactively addressing cybersecurity issues (as addressed in the FDA cybersecurity guidances) in through active engagement with stakeholders and peers.
Proactive Culture – Manufacturers must demonstrate excellence developing and maintaining a proactive approach to surveillance, assessing user needs, and continuous learning.
While FDA has stated it plans to open the Pre-Cert program to more companies by the end of 2020, there is still a great deal of ambiguity around how companies, like Pear, can access "Excellence Assessments" and the Pre-Cert program. SaMD developers should be prepared to leverage the Pre-Cert program, as an important part of their overall platform strategy.